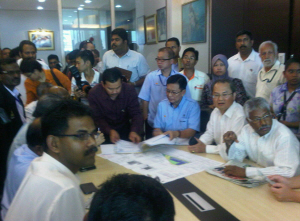 The Selangor government has directed the Selayang Town Council (MPS) to issue a stop work order against a developer who is planning a condominium project just adjacent to the famous Batu Caves Hindu temple.
State exco member Ronnie Liu said the state government would conduct a soil test in the area to ensure that the development did not damage statues in the temple, before allowing the developer to proceed with the condominium project.
On Monday, the Sri Maha Mariamman Devasthanam chairman R Nadarajah raised concerns over the proposed construction of two 29-storey condominiums slatted for the land beside the temple.
The Sri Maha Mariamman Devasthanam manages the Sri Subramaniar Swamy temple in Batu Caves.
The temple management had planned for a peaceful protest on Friday to pressure the Pakatan Rakyat-led state government and the developer to stop the project, which could pose a danger to the temple caves and statues.
Speaking to reporters after visiting the site, Liu said the project was approved in Sep 27, 2007, when the state was under the Barisan Nasional government.
"We learnt that the Mineral and Geo-science Department had also given its approval for the project after conducting tests on the land near the temple," he said after meeting the temple committee, MPS and the developer.
Also present was DAP stalwart Lim Kit Siang, Ipoh Barat MP S Kulasegaran, Teluk Intan MP M Manoharan, Cheras MP Tan Kok Wai, Subang MP R Sivarasa, Selayang MP William Leong, Sungkai, Perak state assemblyman A Siveneson, MPS chief Zainal Abidin Azim and several other Pakatan Rakyat leaders.
Liu said MPS had done three separate tests on the land of the proposed condominiums. However, MPS admitted that they did not conduct any tests on the temple caves or statues.
"The Pakatan state government is very concerned. We will look at it at from all angles before making a decision," he added.
Liu also claimed that MIC's P Kamalanathan and Gerakan's A Kohilan Pillay were MPS councillors when the project was approved by the district council.
Kamalanathan is currently the Hulu Selangor MP and MIC Putera coordinator while Kohilan is Gerakan Selangor chief and deputy foreign minister.
It is learnt that the temple committee would stage the protest as planned on Friday.
"We will organise the protest as planned until the government gives us a final decision," said a spokesperson, representing the temple committee.
-FMT