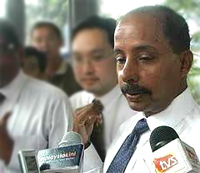 Media statement by M.Kula Segaran, MP for Ipoh Barat and DAP National Vice Chairman at Parliament House, Kuala Lumpur  on 23th October 2012.
This morning while answering an oral question in the Parliament on the role of SUHAKAM, Minister in the Prime Minister's Department Datuk Nazri Aziz replied that SUHAKAM plays the role as set out in the Human Rights Act.
I then posed a supplementary question and said:-
1)  The general public perception is that although SUHAKAM carries out its duties and roles as set out under the Act, it fails flatly to protect human rights in this country. All its investigation and actions are very rarely ever acted on by the Government. Thus SUHAKAM is like a "toothless tiger".  How can the  Government allow SUHAKAM to play a pivotal role in our country.
2)  Yearly SUHAKAM complies its report and submits it to Parliament. The reports are not debated and thus they collect dusts. It would be advisable and correct if Parliament could set aside a day just to debate the annual report.
3) The need to set up a human rights Court to deal specially with human rights issues.
The minister in reply said SUHAKAM plays effectively the role as set out under the Act. He cited the case where the Government acceded to SUHAKAM's recommendation to real the ISA. He further said that although many of the recommendations have not been acted on, it does not mean that the Government rejects these recommendations.
As regards the reports of SUHAKAM to be debated in Parliament, the Minister says the government is looking into setting up a permanent committee like the PAC to deal constantly on these issues.
I most welcome this idea for the proposed committee to act on human rights issue.
However, the Minister refused to state categorically the Government's stand on the setting up of a human rights Court.
We need a specialized court to handle human rights issue.  South Africa, Indonesia have such Courts and the speedy disposal of cases has enhanced the standings of these Courts.
I repeat my call that a Human Rights Court should be set up in Malaysia as soon as possible.