Suaram chairman K Arumugam denied that his new book "Violence Against An Ethnic Minority In Malaysia: Kampung Medan", is a reproduction of his earler book written in Tamil, "March 8". [ VIDEO 05:22 ]
"March 8" was published in 2006. A total of 3,000 copies were sold before it was banned in 2007 by the Home Ministry on grounds that it was prejudicial to national security.
When the ban was challenged in court, the High Court and Appeals Court judges maintained that the book is seditious. The case is awaiting trial at the Federal Court.
"This book is different. New information has been added," said Arumugam.
It is largely based on a PhD thesis by (co-author, Wawasan Open University senior lecturer) S Nagarajan and court documents," said Arumugam during the launch of the book at the Kuala Lumpur Selangor Chinese Assembly Hall (KLSCAH) last night.
He added that the new book does not contain commentaries that were deemed as detrimental to public order as was the case in his previous book.
"Violence Against An Ethnic Minority In Malaysia" is a 147-page book published by human rights NGO, Suaram.
It looks into the Kampung Medan racial violence on March 8, 2001 from the perspective of the people who were victimised and lived there.
Suaram director Kua Kia Soong who edited the book also concurred with Arumugam.
"It's a completely different book. This one is in English," said Kua.
'Perpetrators were outsiders'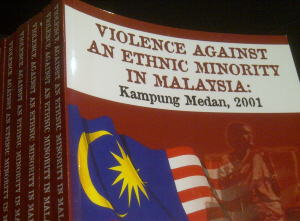 Meanwhile, Arumugam told the audience of about 40 people of his hope that justice will be served to the people.
"We want to know the truth. The government should admit if there were wrongs and if there was a need to reform institutions," he said.
After the launch, a forum was held. The panellists were Hindraf adviser N Ganesan, anti-ISA pressure group GMI chief, Syed Ibrahim Syed Noh, and Kua.
Syed Ibrahim said that contrary to the official version, the Kampung Medan incident was not a racial clash between the Malays and the Indians.
"It is not an ethnic clash. This book provides an analysis [to show] that there were no group clashesஸ
"People there lived harmoniously despite it being a squatter area. The perpetrators were outsiders, not locals," Syed Ibrahim said.
He pointed out that contrary to the official version, the Kampung Medan incident was supposed to be a catalyst to overthrow former menteri besar, Dr Khir Toyo.
Khir was the Selangor menteri besar from 2000 to 2008.
"The clash was the result of people within Umno who were unhappy with the appointment of Khir as Selangor menteri besar," Syed Ibrahim said.
Ganesan, meanwhile, accused the police of working hands in glove with the assailants.
"There were 2,053 policemen against 100 mobsters. The police are pulling a wool their eayes," he said.
Kua in his analysis pointed out that there was a similarity in the May 13, 1969 clashes with the Kampung Medan incident.
"Kampung Medan and May 13 are not racial clashes. Both were allowed to drag on by the security forces," he said, adding that the May 13 incident was allowed to drag on for two months whereas the Kampung Medan clash was allowed to continue for 15 days.
-FMT